As cat lovers, we understand a lot of what our cats tell us.
We know the subtle nuances of our cats' meows, chirps and trills, but no matter how fluently we speak the cat's language, humans will never fully control the tongue. If we asked our cats they would probably tell us that their language is not all human farmers, but we try anyway!
Anything to please the feline overlords!
And now Javier Sanchez and his team are helping us to understand our cats even better thanks to MeowTalk, an app that translates meowing.
MeowTalk
As a former Amazon engineer working on Alexa, Sanchez knows something about speech recognition. With his position as project manager at Akvelon, he has set himself the goal of deciphering the meow. With the tech company, Sanchez has given cat lovers around the world the ability to translate using MeowTalk.
Sanchez and his team, motivated by the NPR series "The Secret Language of Cats," studied the way cats speak and found that cats have approximately nine different intentions in their vocal communication with us. Sanchez believes that cats with these nine intentions don't actually speak a language, which explains cats that meow to speak to humans. "They don't share words and don't communicate with each other. Cats never meow each other in nature. "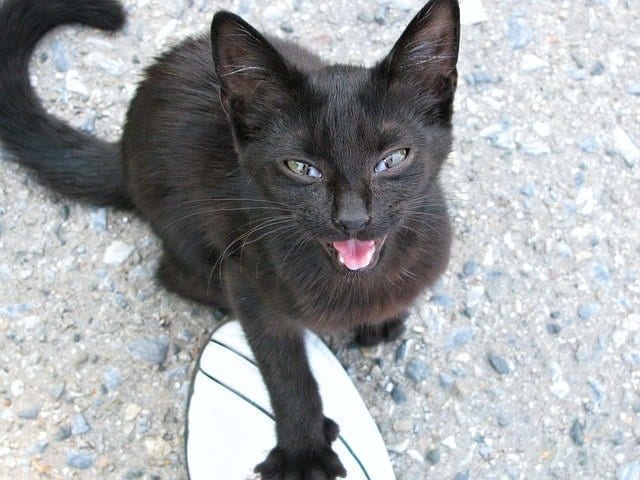 In the meow, cats can signal feelings such as "I'm hungry" or "I'm in pain". And the MeowTalk app has been coded to see the subtle differences in the meows. All users have to do is record their cat's meows and the app gets to work analyzing sounds. Using research and coding from Sanchez and team, MeowTalk translates the meow and then reports what your cat is saying.
But it's getting better!
According to the app description, MeowTalk can learn your cat's specific dialect!
"You can train the MeowTalk app to learn your cat's unique meow vocabulary (cat talk) by telling the app what each meow means if your cat manages it. If you give the app 5 to 10 examples of a specific meow for your cat (e.g., "food", "let me out"), the app can recognize that meow (be your cat translator) when it hears it. "
Where can you download it?
MeowTalk is available now, but is still an ongoing development project. Sanchez and his team are still working on creating the perfect translator, so you can expect regular updates. The ultimate goal is to make a collar. However, start translating by downloading MeowTalk for iOS and Android.
Then find out exactly what your cat means when she sings her meow songs!
Please SHARE to pass this story on to a friend or family member.
H / T: www.people.com